Experience world-class business and life coaching and a community like no other! Applications are now available for the 2024 Premier Coaching Program.
We Create Year-Defining Experiences for you
We specialize in helping you grow through completely unique experiences. Take a look at one of our recent adventures.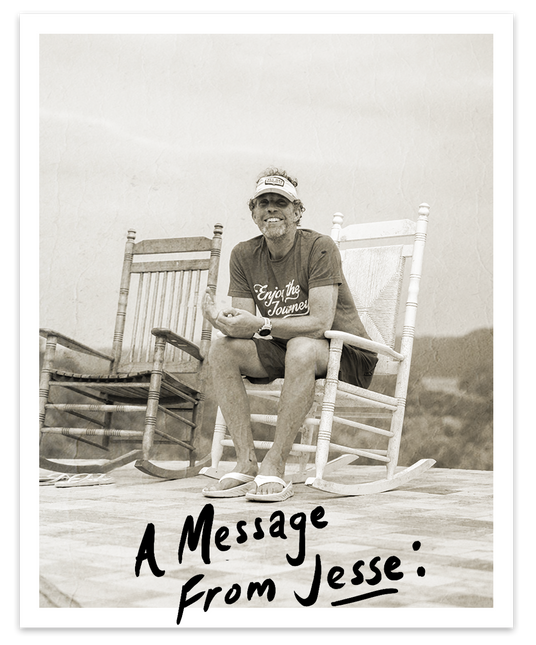 I've been fortunate to see a lot of success in life. Because of that, people constantly ask me the same questions:  
How do you balance your kids, friends, family, adventures, and work? How can I improve my mindset, health, wellness, or relationships? How can I start or grow a successful business?
The answer: I have a system.
For years I've been sharing my exact system. Year after year, the results are the same: Life-changing.
Why? Because it works. Not only has it worked for me... I've seen it work with my wife, Sara Blakely, with my friends, family, business partners, and even strangers I met through the internet!
For me, no coaching program checks all the boxes unless it offers a blueprint to map out a balanced year, provides strategies around business, mindset, health, and wellness, and fosters a community to uplift each other.
In fact... one like that didn't even exist! So, we created our own.  
Introducing: JESSE ITZLER's PREMIER COACHING
This program is for those looking to maximize the rest of their life journey and become a better friend, parent, storyteller, leader, entrepreneur, and more.
Here's Exactly What you get:
Coaching With Jesse

Group and 1x1 Coaching Calls with Jesse
Get the opportunity to ask Jesse questions about his business experiences, endurance race, and anything in between!

ADVENTURE-BASED RETREATS WITH JESSE

Join us for a VIP experience at The Sweat Lodge Retreat (choice of 2 available dates) in Rome, Georgia.
Get a VIP experience at All Day Running Co's Runningman Festival October 2024 in Kingston, Georgia.

Expert Mentor Access

1x1 Coaching Calls with Jesse's Personal World-Class Mentors. Monthly Sessions available in the areas of:
Business, Finance, Nutrition, Fasting, Endurance Training, Mindset and Leadership Development, Relationships, Parenting, Public Speaking, Branding, Breathwork, Sleep and Recovery
Access to legacy videos and more!
1x1 Performance Coaching

2024 Live (In-Person or Virtual) Planning Session with The Big A## Calendar™
Monthly Performance Coaching Calls (Virtual) with a Certified Performance Coach

Community Calls

Virtual Group Calls with Jesse every Quarter
6 Guest Speaker Calls
6 Community Calls

Other Benefits

Exclusive access to our private coaching app for all Program Information and Community
The Big A## Calendar™
Access to Jesse's 2024 Kick Off and Planning Webinars, 10 Coaching Webinar Series, Course, and Library with all On-Demand Coaching Webinars
Tickets to All Day Running Co Events
And more special benefits!
2024 Applications are open!
Space is limited! Apply now to reserve your slot, or schedule a free consultation call to get more information!
MEET OUR WORLD CLASS COACHES & MENTORS
Get coached by Jesse Itzler and his team of personal expert mentors. Achieve more than you ever thought possible in all the areas of your life that matter most: Business, Mindset, Health & Wellness, Parenting & Relationships. This coaching program includes in-person retreats at unique destinations, including Jesse's personal properties, agenda-driven group calls with Jesse, his Expert Mentors, and Coaches with live Q&As, one-on-one planning sessions with Jesse's Performance Coaches and more. Schedule a call to learn more today!
DR. KARYN GORDON

Relationship/Leadership Mentor

CHRIS HAUTH

Endurance and Mindset Mentor

MONA SHARMA

Endurance and Mindset Mentor

DR. TRISHA SMITH

Wim Hof Breathwork and Sleep Mentor

MEGAN REILLY

Legacy Videos and Entrepenurial Mentor

MELISSA JOY KONG

Speech Writing and Branding Mentor

PREE WILLIAMS / Mitch Vanderhagen
More business and lifestyle coaching programs are coming soon! If you have questions about the programs or would like more information, please email laurie.wintonick@jesseitzler.com or schedule a call below.